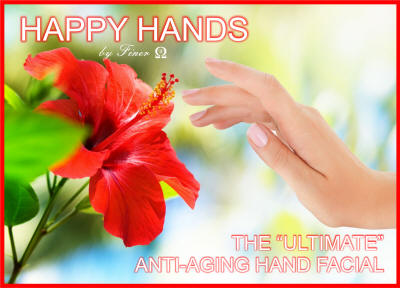 FINER IS PLEASED TO ANNOUNCE THE ARRIVAL OF THE NEW
HAPPY HANDS TREATMENT.
The hands are a prime age revealer second only to the face. They are frequently exposed to the elements such as the sun, wind, and dry weather, as well as being constantly immersed in water, soaps and harsh chemicals. Unlock the true potential for your hands to reverse the visible signs of aging to help repair rough, dry, worn, chapped skin and age spots. The Happy Hands Facial works to restore the youthful appearance back to your hands with a combination of the most innovative and therapeutic ingredients available.
YOUR RED CARPET ANTI-AGING HAND FACIAL CONSISTS OF:
1. To begin, hands are soaked in a warm therapeutic bath of Himalayan pink salt and essential oils to purify and soften the skin.

2.

The hands are then exfoliated with an Amino Acid resurfacing polish for optimal smoothness, revealing a healthy layer of skin.

3.

Once cleansed, apply the hand mask of concentrated antioxidants and vitamins. Your hands are then placed into liners and then into heated mitts. The heat will open the pores allowing
the mask to penetrate deep into the skin's surface for effective nourishing and intense hydration.

4. A second cleanse is then followed by an infusion of Hyaluronic Serum to plump out fine.

5. A luxurious hand conditioner and cuticle softener is applied and massaged in to
preserve all the goodness of your Happy Hand Treatment.

6. Finally, your treatment is veiled with a +50 SPF spray for sun protection.
HAPPY HAND TREATMENTS will sell from $20 to $75 per single treatment, depending on
what your populace (area) is willing to pay.
A fantastic business to add to your salon or to start up at home!
PROFIT POTENTIAL
This package will provide a minimum 30 treatments
At $20.00 per treatment x 30 = $600.00
At $25.00 per treatment x 30 = $750.00
At $30.00 per treatment x 30 = $900.00
At $35.00 per treatment x 30 = $1050.00
At $40.00 per treatment x 30 = $1200.00
At $45.00 per treatment x 30 = $1350.00
At $50.00 per treatment x 30 = $1500.00
At $55.00 per treatment x 30 = $1650.00
At $60.00 per treatment x 30 = $1800.00
At $65.00 per treatment x 30 = $1950.00
AN EXCELLENT PROFIT MARGIN FOR A SMALL INVESTMENT....
This complete package is $495.00 + postage
Please email info@finerface.com if you wish to place an order.